Indirect Water Heater - Glass Lined
AQUAPLUS (AP) WITH MEGA COIL
Therma-Flow delivers solutions to supplying the needed performance of todays domestic hot water needs for home or business. Each Therma-Flow AquaPlus tank with its specifically designed Mega Coil heats water by capturing the energy created by your existing boiler. The "indirect water heater" is linked to your hot water boiler and stores hot water at the desired temperature.
The AquaPlus tank is thermally wrapped so it easily maintains hot water temperature and, because the AquaPlus is glass lined, it offers exceptional long term performance. It's durable and the Mega Coil Assures you of a reliable way to meet your most demanding hot water requirements.
AquaPlus tanks are designed to serve a wide range of hot water applications and provide superior performance with all kinds of hydronic, radiant heat and steam heating systems. Households with multiple appliances and bathrooms, whirlpools, and hot tubs, benefit from an ample supply of hot water without concern of runouts.
COMPONENT FEATURES INCLUDE:
Mega Coil glass lined heat exchanger with a high quality cobalt porcelain enamel glass lined tank
Over sized Mega Coil guarantees superior heat transfer – 1 ½" coil diameter with less pressure drop and high recovery

Smooth glass lined coil resists sediment buildup

Brass nipple connection Diptube and Hot Water outlet

*NEW*

Immersion aquastat for precise temperature
Factory installed brass draw off
Factory installed brass well for aquastat
Thermally wrapped with high density insulation reduces standby heat loss
Removable Anode Rod 1" diameter for maximum tank protection against corrosion and electrolysis

*NEW*

Stylish outer jacket
Various sizes to ensure a proper application for home or business
Made in the U.S.A.
Shipping weights are approximate. Data is subject to revision without notice. Consult factory for application assistance.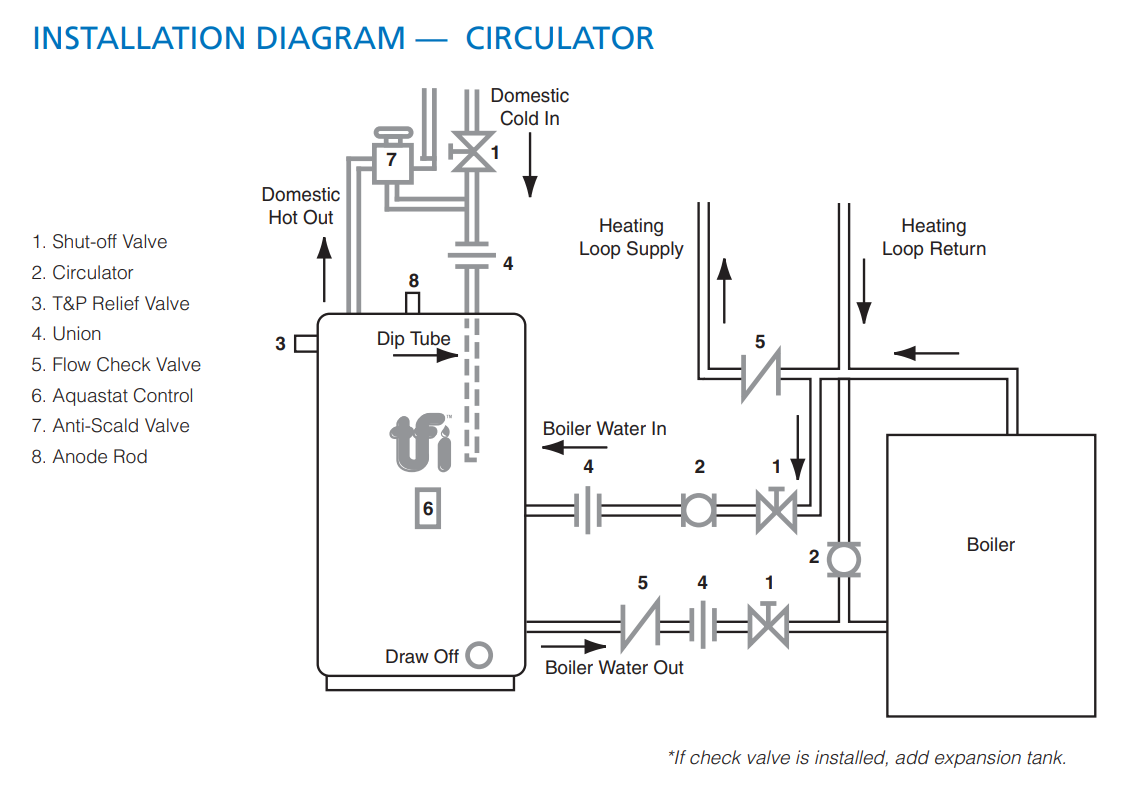 PERFORMANCE GUARANTEE:
7-year guarantee for residential use of glass-lined units
3-year guarantee for commercial use of glass-lined units

Commercial use is recognized as any application where the water heater serves more than two residential apartment units, and obvious applications such as restaurants, laundries, schools, etc.
New
Brass Nipples Standard
Indirect Water Heater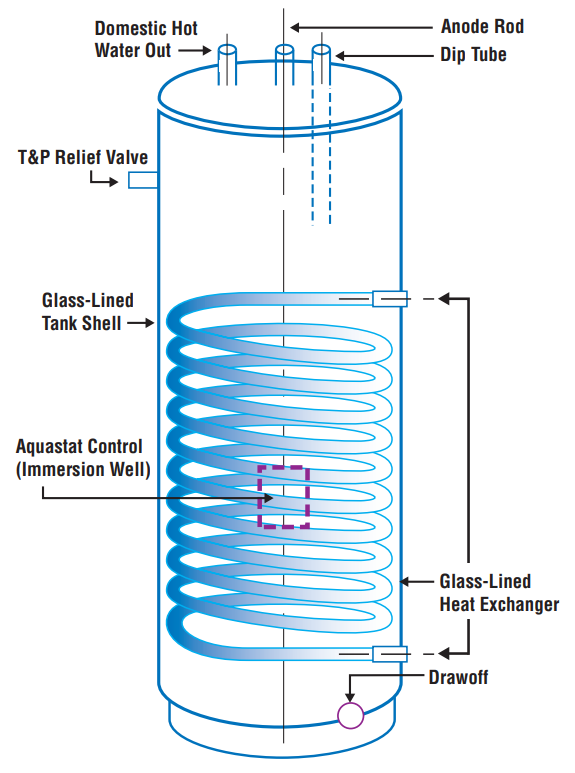 Indirect Water Heater
New
Brass Nipples Standard
Indirect Water Heater Top