External Tankless Water Heaters
SOLID COPPER SHELL
Models For Every External Installation
Everhot External Tankless Water Heaters service a wide range of domestic, commercial, and industrial applications — virtually anywhere there is a requirement for instantaneous hot water on demand.
Capacities range from 4 gallons per minute to 125 gallons per minute. Models are available in both vertical and horizontal styles, with special models for radiation heaters, swimming pool heaters, indirect tank heaters, and converter applications. Consult factory regarding special models and applications.
STANDARD FEATURES:
Solid copper shell
Reinforced copper, integral finned tubing
Air vent coupling
Attractive red jacket
Therma-Flow/Everhot's engineering department offers layout and related services by knowledgeable personnel to assist you in facilitating design and installation for special applications.
ADDITIONAL DATA FOR COMMERCIAL AND INDUSTRIAL USES:
Restaurant Type: Producing 140° rise for dishwashers, laundries, and antiseptic washdowns.
High Pressure Shell: Live steam working pressure up to 125 lbs.
Cupro-Nickel: Longer lasting, corrosion resistant coils, particularly suited for low P.H. areas.
Regular models may be used for up to 15 lbs. steam pressure.
Vacuum breakers required on all live steam installations.
Shock arrestors required on all commercial and industrial uses.
Air elimination: Use key/coin type vent on steam systems.
Use automatic float-type vent on forced hot water system installations.
RECOMMENDED EXTERNAL WATER HEATER SIZING CHART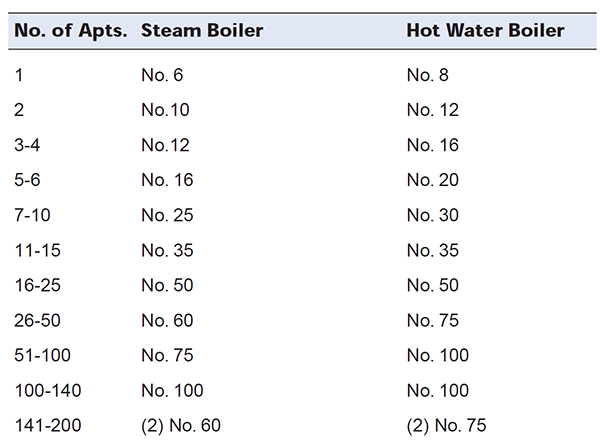 All Models Available with Built-In Recirculating Line
No moving parts
No operational expense

Consult factory regarding pricing
Tankless Specifications:
Shell: Max. Working Pressure

Steam 15 psi
Water 30 psi
Test Pressure 150 psi

Coil: Max. Working Pressure 420 psi
High Pressure Units:
Shell: Max. Working pressure 125 psi

SPECIFICATIONS: Vertical Models
PLEASE NOTE: All G.P.M. ratings based on 100˚rise, and maintenance of 200˚ boiler water temperature.
FREE STANDING OPTION: Vertical Models Only
If you want the Freestanding Option, specific "FM" before the model no. For example, "FM" No. 4 Deluxe
SPECIFICATIONS: Horizontal Models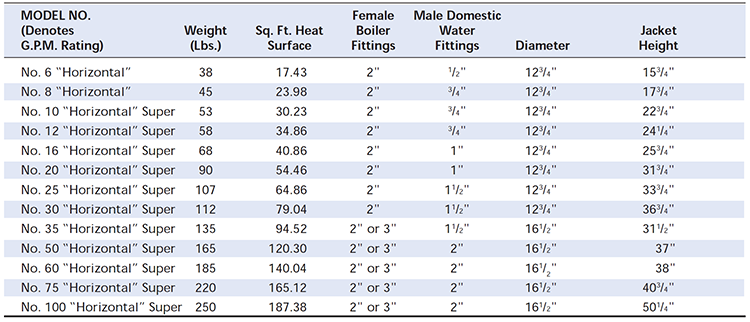 Engineering submittal forms for each unit listed are available on request to factory
CONVERTERS / HEAT EXCHANGERS
Therma-Flow/Everhot converter heat exchangers have coils designed for swimming pool heaters, radiation heaters (creating forced hot water heating zone from steam boiler), indirect storage tank heaters, numerous converter applications, and as tankless water heaters for high rise or low water pressure area installations.
FREESTANDING OPTION: Vertical Models Only. For Freestanding Option, specific "FM" before model no. Example. "FM" R.H. 8
CROSS REFERENCE GUIDE: Vertical Models (Shown Old vs. New Model Designation)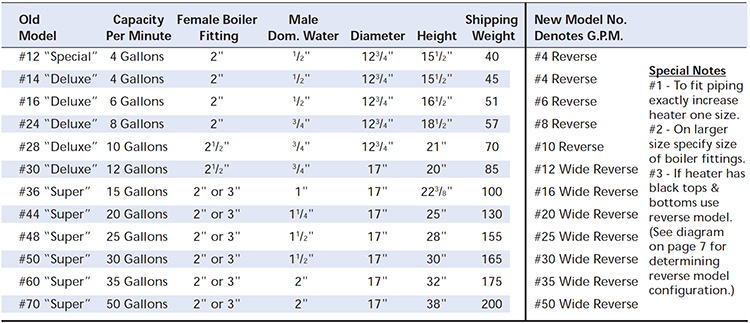 PERFORMANCE GUARANTEE:
3-year guarantee on commercial and residential
VERTICAL MODEL
FM - Free Standing Model